Iconic Bridal
Elegant, chic, iconic bridal shoes. Handcrafted using the finest silk satin, leathers and suede.
Timeless Shoes
Timeless shoes for any occasion, designed for comfort.​
Free Shipping
Free shipping on all orders over £200.
"It was a total joy wearing your shoes and the experience leading up to it and especially meeting the team who makes them. It was such a pleasure and lovely to finally have a pair of shoes that fit!!"
"Day was brill & shoes were perfect, sooooo comfortable - I only took them off late evening to save them!!"
"Shoes were fantastic - thanks you."
"I wore a pair of Adrienne Shoes for my wedding. Everyone commented about the quality and the beauty of the shoes and asked where they could get them from!"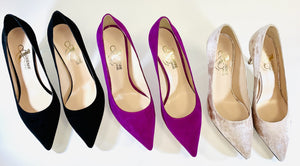 Hepburn
"Elegance is the only beauty that never fades"
Audury Hepburn